Powerful and innovative systems suitable for your needs
---
Our continuous belt conveyor roasters and dryers are used worldwide for the thermal treatment of food and other products. The comprehensive product range includes peanuts, hazelnuts, almonds, pistachios, macadamia nuts, cashews and chicory - and sugar beet pulp. High-performance salting - and coating - machines complete our portfolio. Of course, our dryers are also used for other natural or technical products.
Thanks to our many years of experience in this area, we construct our machines very carefully and produce them in high-quality execution. On our roasters and dryers the burner, cooler and fans are integrated in the casing. In day-to-day operations they prove to be reliable, low-maintenance and low-cost "workhorses". Our salting - and coating - machines are easy to use and very flexible.
All machines come with a comfortable and according to your wishes set up control. Roasters and dryers have a manual fire extinguisher by default, which can be automated. Another possible option is an integrated conveyor belt cleaning (CIP – cleaning in place). Basically, our roasters and dryers are optimized for hygiene and easy to clean.
We would be glad to adapt a system according to your ideas and the available space. Furthermore, we produce or trade many products necessary as additional equipment, such as cooling air duct, roasting exhaust and purification (thermal, catalytic or biological), silos and conveying systems.
Conveyor belt roaster
Here, everything is just right
Depending on which product you want to handle, we equip our conveyor belt roaster with the suitable belt type. Belt widths between 1,000 mm / 40 in and 3,000 mm / 120 in are possible. On request we manufacture your new machine in stainless or especially corrosion-resistant stainless steel. The required temperature can be provided by means of an electrical air heating e.g. for use as a dryer.
Our systems are heated directly or indirectly with oil, gas or electrically on request. Depending on the configuration, they generate temperatures of 20 ° C / 70 ° F up to 250 ° C / 480 ° F at the product. Without additional handling the product can be heated and cooled on the same level. Since the roasting or drying air is applied alternately from above and from below, the roasting result is particularly even. Depending on product, treatment time and size, our machines have a drying or roasting capacity from 500 kg / 1,100 lb to 7,000 kg / 15,400 lb per hour. The assembled machine is delivered in 2 m segments or one piece, which is of advantage for the truck loading.
We manufacture roasters between 7 and 40 m length. The roasters of the Nutmaster family are supplied in one piece. They are extremely compact design, easy to set up and running in no time.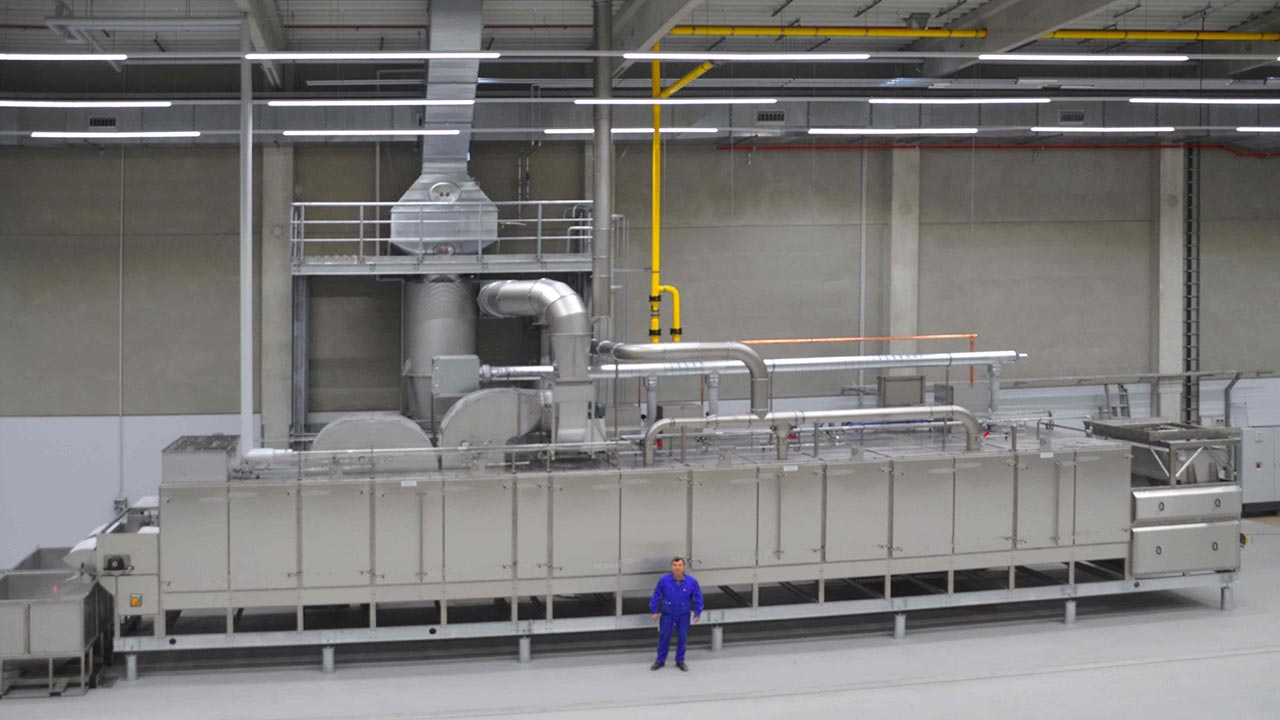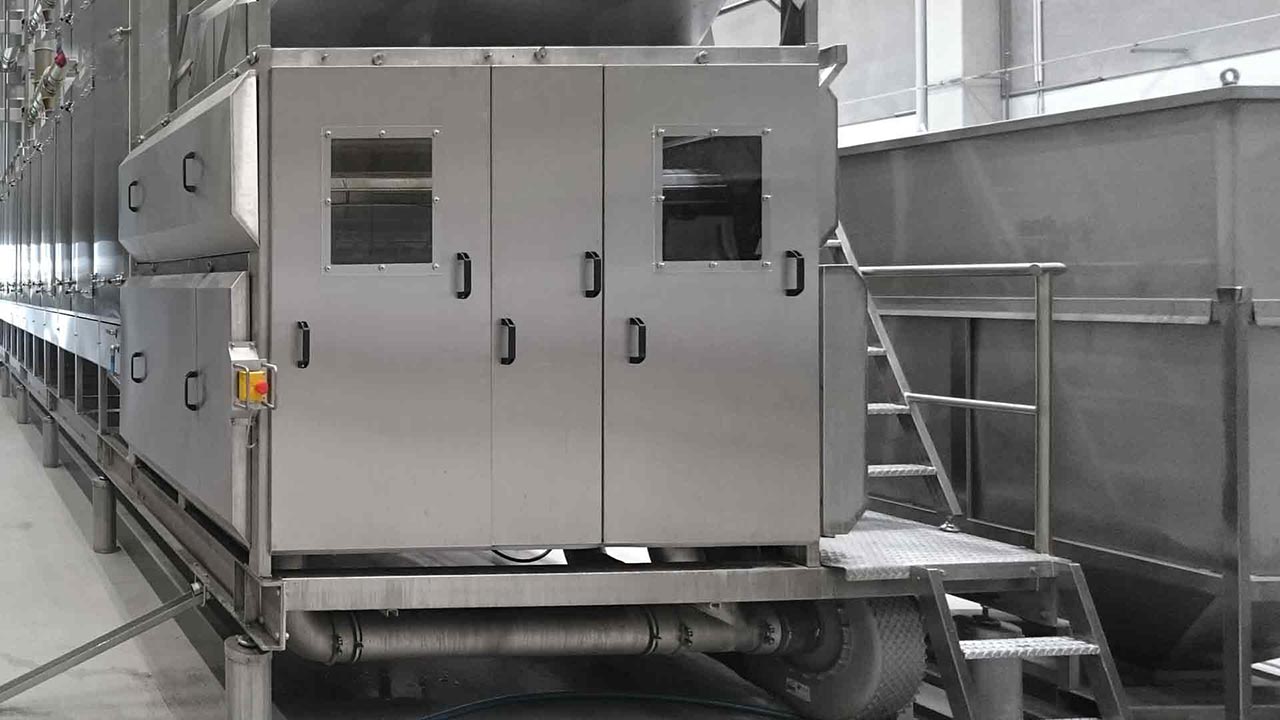 Fluidized bed roaster
Roasting cannot be more compact
Our model NEXUS is a very compact type of batch roaster. It is suitable for roasting of granular goods of all kinds. On request, we design this equipment as a dryer. The Nexus takes up little space, has a low construction height and is extremely reliable. Because of the possibility to perform short roasting times it is ideal especially for frequent changes of product with smaller production quantities, suiting your batch sizes. In this model, all the main components are integrated easily accessible. It is particularly easy to clean and maintain.
The base of the NEXUS is a unique fluidized bed that is generated by a special bottom perforation in the roasting chamber. The outcome of the roasting process is a perfect product, produced in a surprisingly simple modular system. The model is available in several sizes: the NEXUS 20 is a laboratory or shop roaster with a capacity of 20 kg / 44 lb of raw product per hour, the NEXUS 1000 has a capacity of up to 1,000 kg / 2,200 lb of raw product per hour for the industrial roasting. Between these sizes, we offer the sizes 300 and 500. All systems are factory assembled and tested and are ready for you to use on site very quickly.
We gladly support you by providing additional equipment, such as the transportation of raw and roasted product, silos and the exhaust gas treatment.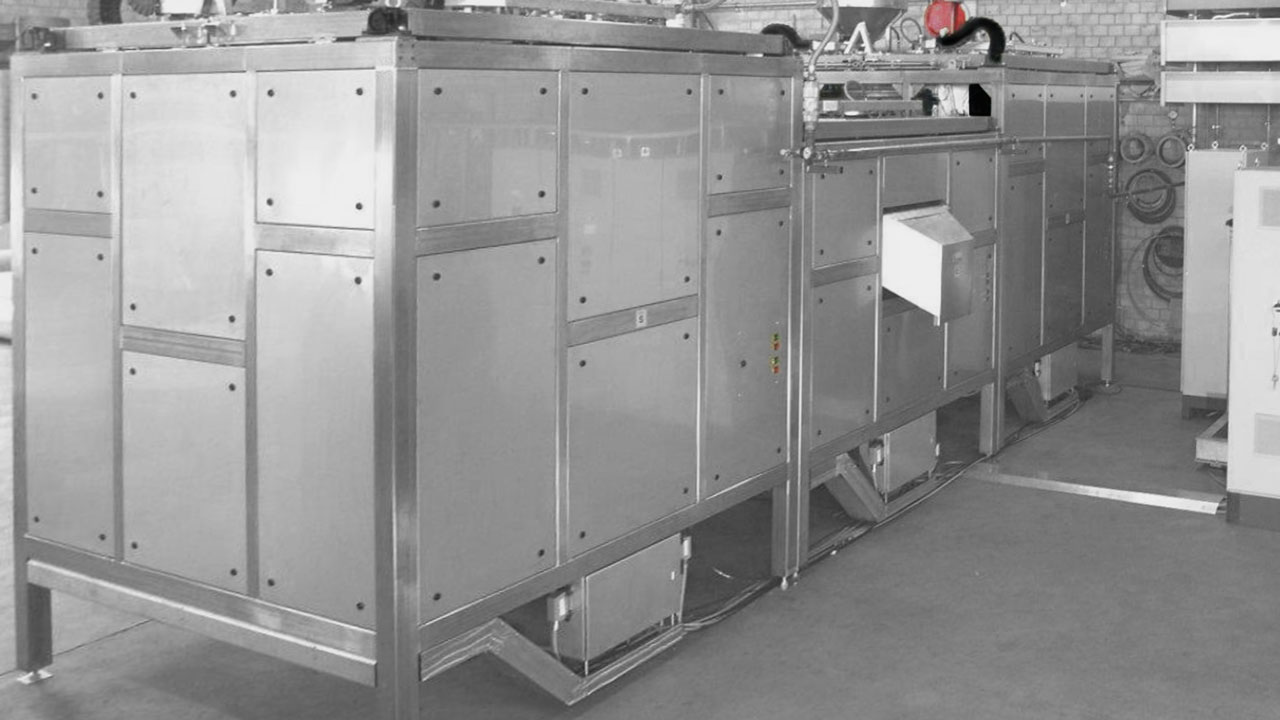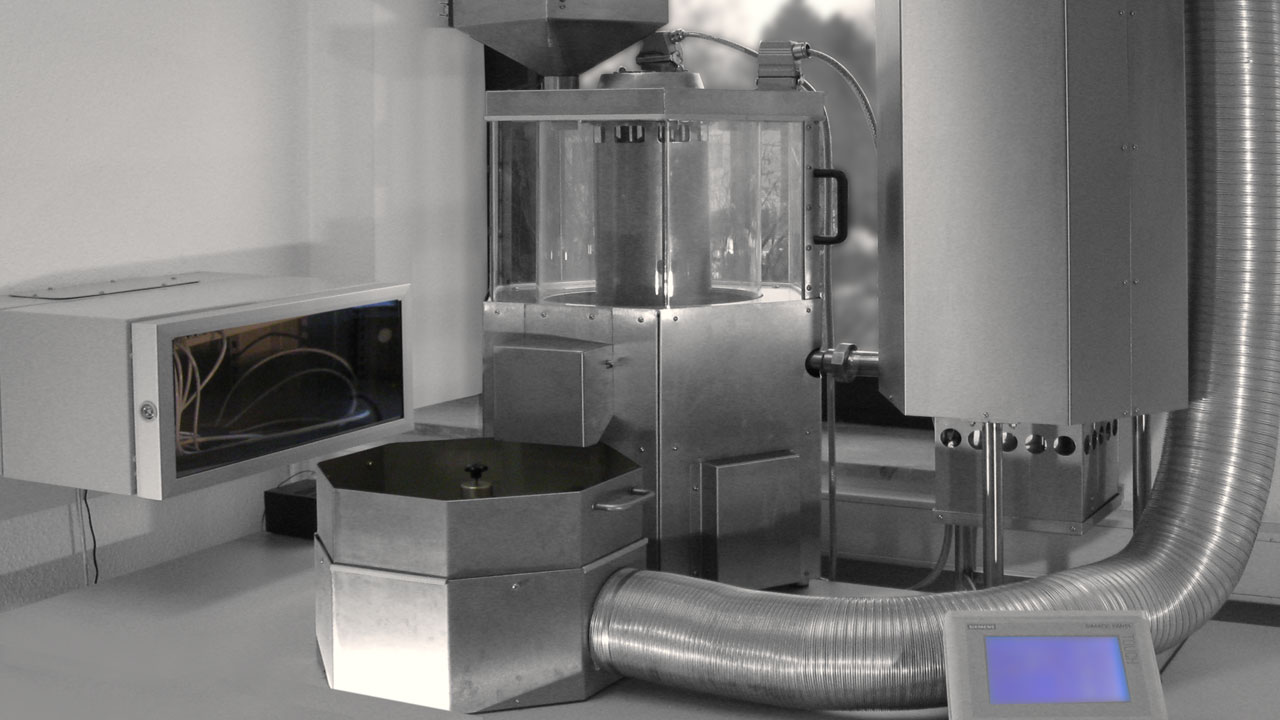 Salting and coating
Much more than salt for the nut
With our mobile salting equipment nuts and kernels will be salted, spiced, flavored or dry coated carefully and continuously. Salting and coating take place while vertical conveying of the product. A polished stainless steel spiral reduces the adhesion of the product on its surface. Good mixing causes an even appearance and a pleasant taste distribution on the product. The mobile unit can be used independently before or after roasting. Parameters such as salt and oil quantity, angle of the spiral as well as spiral speed can be adjusted precisely by means of a modern control.
The capacity of our machines is up to 2,500 kg per hour / 5,500 lb per hour (pistachios, almonds, cashew nuts, and others). Thanks to its modular design, they are small, compact, and extremely flexible. They are easy to use and require only a 32 A CEE socket and a ¾" water connection for the operation. Our salting - and coating - machines have a built-in cleaning-in-place system for easy cleaning. All parts that get wet are made of stainless steel or with an FDA approval.
In addition to the basic model, we offer an expansion module, with which e.g. pistachios with shell can be salted before roasting. With a second expansion module in conjunction with first module, almonds, macadamia nuts and other specialties can be salted before roasting. Individually inserted, it serves the oil and salt or spice for example for cashew nut after roasting.